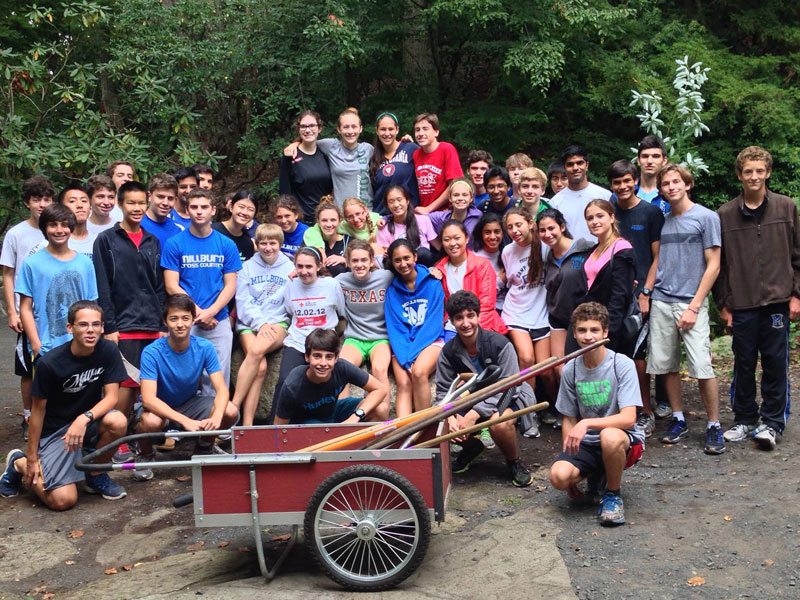 Volunteering at the Cora Hartshorn Arboretum (CHA) is one of the best ways to show your support for your local woodlands and our organization.  Volunteer tasks include front desk assistance, forest restoration and maintenance, and assistance with education programs.  As the CHA grows in the community, so will the presence and role of our Volunteers. No experience is needed, and volunteers accepted into our program will be trained on site with the expertise of CHA Staff and Board Members.
Teen Volunteer Programs
Cora's Conservation Corps
Our premiere teen environmental conservation program. Volunteers receive training in national citizen science research and participate in biological fieldwork through the restoration and management of our historic woodlands. Click here to learn more.
Summer Discovery Camp Volunteer
Looking to gain experience working with children as well as what it takes to manage a forest? Then sign up for Cora Hartshorn Arboretum's summer volunteer opportunity. Click here to learn more.
Adult Volunteer Programs
Corporate Volunteerism
Employees of an organization can volunteer as groups of up to 10 individuals to assist in our woodland and trail management.  Through corporate volunteerism, groups bond and build the teams they work in during different projects in the professional world.  Corporate volunteerism also helps keep our trails and grounds safe for program participants and visiting families.
Individual Volunteers
The Cora Hartshorn Arboretum offers opportunities for individuals to volunteer to help with woodland maintenance.  This can include learning how to identify invasive species and removing them, and show your support by volunteering during Arboretum special events throughout the year or by becoming a Weekend Warrior to provide support to staff on the weekends.
Citizen Scientists
Expand your science knowledge by becoming part of the Citizen Science program at the Cora Hartshorn Arboretum.  Citizen Science programs rely on volunteer participation to study the world around them and provide valuable data to scientists all over the world.  This important work helps to measure the health of our local ecosystem. Click here to learn more.

---
For more information, please contact:  ejackson@hartshornarboretum.org
You can download the Cora's Conservation Corps. application here: Cora's Conservation Corps Application
You can download the volunteer application here: Volunteer Application